Trac proudly powers the recruitment for
East Cheshire NHS Trust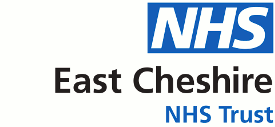 About
Set on the edge of the beautiful country side of the Peak District, Macclesfield is in easy reach of many cities including Manchester and the major transport links.
East Cheshire NHS Trust aims to provide excellent safe, effective and efficient secondary care health services in a way that ensures patients and staff feel valued and central to the service. Working as part of the community and providing acute health services for people in East Cheshire the trust has 382 inpatient and 28 day case beds and employs around one and a half thousand staff.
As part of East Cheshire NHS Trust you could be involved in our vision:
Placing a high priority on the development of staff
Responding to the individual needs of patients
Encouraging team work within the organisation and with partners
Rewarding innovation and continuous service improvement
Macclesfield District General Hospital is a friendly and helpful hospital, where people work together with full co-operation and teamwork, to the benefit of the service in supporting the local community.
Its is a modern and developing hospital with a state of the art Education & Training Centre, a £3 million Cancer Resource Centre a Day Case Unit and new state of the art Stroke Rehabilitation Ward and General Rehabilitation Ward.
East Cheshire NHS Trust aims to promote equality of opportunity and is committed to treating all applicants fairly and on merit regardless of age, gender, race, marital status, religion, disability, sexual orientation, or any offences that may have been committed which are unrelated to the position for which you are applying. We are keen to reflect our local population and therefore applicants form all sectors of the community are welcomed.
Ref:

209-A-22-4811703
Vacancy ID:

4811703
Practice Development Nurse
Closed for applications on: 16-Dec-2022 00:00
Vacancy status: Closed
Closed for applications on: 16-Dec-2022 00:00
No longer accepting applications